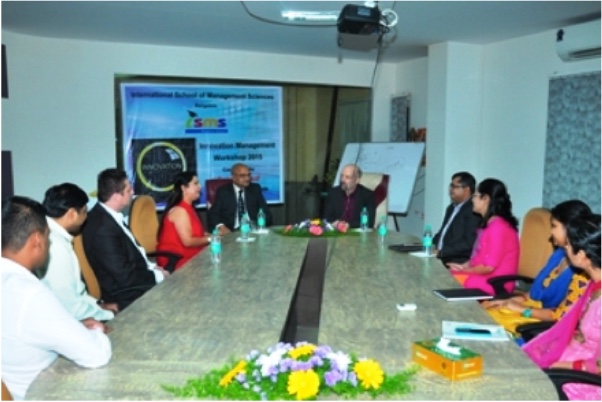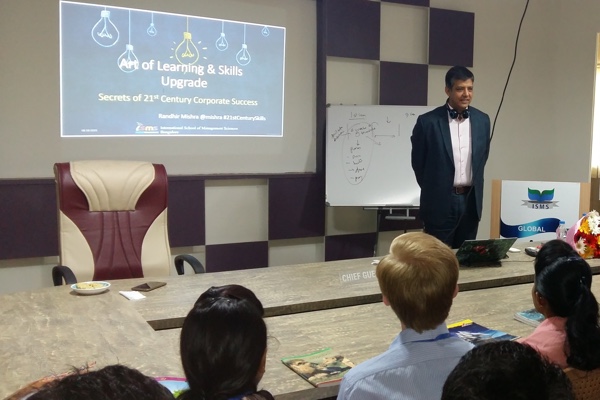 01: HIGHLY RANKED. GLOBALLY RECOGNISED
ISMS MBA has been ranked top 24(2012-2014) by The Pioneer, The Sun Magazine, Silicon Valley 2015 Bschool Survey. ISMS Business School is the first in South India and among a select few to receive the two most widely recognized MBA Program accreditations through University of Mysore.
02: INTERNATIONAL CERTIFICATIONS
With a rigorous and intense programme of 2 Years, ISMS MBA is a fast-track to a top MBA degree, allowing you to get MBA Degree with Global Business Leadership Program, and Innovation Management from The Phillips, The Netherlands.
03: GLOBAL MBA WITH ERP PACKAGE
Students can choose Global MBA Program Package with five value added Programs along with total personality development module, Business Intelligence Tools from IBM India. Foreign Languages and Expert Business Leaders Lectures are included in Global MBA Package.
04: OUTSTANDING FACULTY
Participants at ISMS Business School gain insights from 60 experienced faculty members from across India. These faculty members are top academics, business advisers and researchers in their respective areas with PhDs from leading universities.
05: LEARNING FROM DIVERSITY
You will be part of a select group of high-calibre individuals from more than 25 States and diverse educational backgrounds. Broaden your horizons and gain fresh perspectives to become an effective leader in a global business environment.
06: INTERNATIONAL LIVE PROJECTS
All MBA participants will work on a "live" consulting project with a sponsor company that may come from a variety of industry sectors. With guidance from faculty supervisors, you will get to apply classroom lessons to real world projects, ranging from market opportunity analysis added to industry best practice benchmarking and customer intelligence.
07: FOCUS ON BUSINESS LEADERSHIP
Be a part of Leading People Globally programme, a course that is integrated through two Semesters. We nurture leaders who are able to embrace uncertainty, accept ambiguity and acknowledge the various natures of organisations and markets.
08: INTERNATIONAL EXPOSURE
Through optional international field trips also known as Business Study Missions(BSM), and exchange and summer programmes with many B Schools worldwide. Past destinations for BSM include Argentina, Myanmar, Mongolia, New Zealand and South Africa.
09: LARGE AND DIVERSE ALUMNI NETWORK
Be part of a family of ISMS Alumni placed in Global MNC's through out India working in top positions. You can take part in alumni activities and enjoy a host of privileges, which you will find useful and beneficial to your career development and beyond.
10: ONE OF THE MOST BEAUTIFUL CITY WITH BEST CORPORATE NETWORK.
ISMS BANGALORE - INDIA'S MOST INTERNATIONAL B SCHOOL
Case based teaching is the main teaching methods at ISMS-and consistent with our philosophy of collaboration – are team projects.
Active Interaction are encouraged so that traditional lectures can transform into open discussions. And discussions can lead to face-to- face feedback between professors and peers.
Role play and simulations share the spotlight with problem-solving sessions. Or students may be asked to reflect on their life experience and discuss the source of their leadership styles.
Rigorous self-analysis is at the core of ISMS approach to leadership development. Combining feedback from coworkers and fellow students with instruction and peer coaching, our students gain insights that the traditional case teaching method can't provide.
Independent study Under the direction of a faculty member, students explore their own interests, creating new knowledge of a particular significance to their own careers. Whatever the format, teaching and other academic work at ISMS is centered around our faculty of thought leaders. Each teaches in the MBA program, which means you learn directly from the best. Our small class size means they will get to know you as an individual.
---
Highly ranked, Globally recognized

Global MBA With Three Global certifications

Outstanding Experienced Faculty

Learning from Diversity

International Placements

Corporate Live Projects from Germany

Large and Diverse Alumni network

Focus on Business Leadership

International Student Exchange Program

World's Most Dynamic City-Bangalore.