ISMS Bangalore-India's Most Global B School and Best B School for International Exposure and Placements was started under the aegis of Human Empowerment and Charitable trust about a Decade back. The Purpose was to impart High Quality Management Education at International level.ISMS is a business School founded as a consortium between academia and the world of entrepreneurial system. ISMS is a business School that stands for: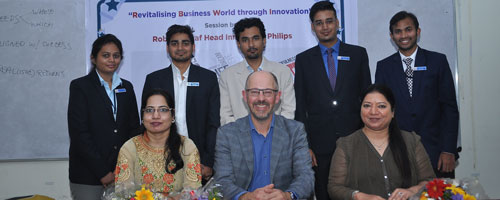 Quality Business Education

Life Changing Experience

The Quality Index
We are a School of business whose primary function is the creation and transfer of management education and knowledge; we do so with rigour and relevance and use the best business and management practices that we espouse and teach. Through the synergy of our teaching, research and service we will contribute to the business, cultural, economic, and social well-being of our communities and constituents.
"We Don't Just Do Things Differently, We Do Them Better"
There are many MBA programs out there. ISMS Bangalore stands apart from traditional business schools because of its differences. Five interlinked elements give you not just the business fundamentals that you would expect from an MBA program, but also the leadership capabilities required to turn concepts into decisions, knowledge into action, and ideas into change.
The ISMS Bangalore MBA opens your mind to how the business world really works and prepares you to take challenges head-on.
We are in the business of Developing Global Business Leaders through high- impact Management Education.
International School of Management Sciences (ISMS Bangalore) was established under aegis of Human Empowerment & Charitable Trust with an aim to be The Most Global B School of India with an intellectual blend of Indian wisdom and International Expertise. ISMS Global MBA program is designed for high-potential individuals with the aptitude and global mindset for international Business knowledge and leadership. Every course is taught from a global perspective, which prepares you to lead and manage people across borders and across all levels of an organization. So in ISMS you can turn your passion for international, cross-cultural and solutions-oriented leadership into a global career that will take you around the world.
International approach
At ISMS, we teach our students and participants at the International level so as to thrive in a dynamic, interconnected world. Our teaching blends cutting-edge theory and practice, while engaging our international network of professors and corporate trainers.
The ISMS approach is uniquely energizing ; personal yet global, intellectual yet practical, passionate yet disciplined. Resulting in leadership that enables agility, distinction and sustainability.
Our Foundation Pillars are
Knowledge – we create knowledge that fosters impactful thought leadership
Education – we personalise learning experiences to build skills, distinction, and agility
Community – we excel together, helping our staff, alumni, partners and institution thrive.
Our international approach is result oriented and vital, supporting our commitment to academic excellence. Indeed, we apply a global approach to everything we do, from ERP of Microsoft USA to Live Projects of Germany, to delivering GBL modules from the Netherlands and study trips around the world and recruiting students and academics from diverse nationalities and backgrounds.
Through our global lens, we see the powerful potential of differences and collaboration in dynamic business world and that's what we pride on!
We are a unique institution for several reasons
High Quality, Updated Curriculum ,Convenient, Affordable learning
International to the Core
An Internationally Double Accredited Institution you can trust
Corporate Connections
Located in Bangalore
Global MBA and Industry Endorsed programs classify the ISMS MBA programs among the Top Tier Programs in India.